DIP DYE & OMBRE HAIR EXTENSIONS
Beauty Works Celebrity Choice Dip Dye & Balayage Hair Extensions
Celebrity Choice is Beauty Works luxury range of virgin, cuticle correct, Remy hair extensions and is the choice of many celebrities.
The Celebrity Choice is sourced and from across Eastern Russia and for the finest quality hair. All Beauty Works hair goes through as little processing as possible to preserve the integrity of the extension.

The bonds are double drawn to ensure all lengths are the same, resulting in thicker, natural looking hair from root to tip.

Celebrity Choice is soft, and holds its elasticity for many months so the hair to be re-used.
The hair comes is flat one colours, mixed colour for multi-tonal, highlighted and lowlighted hair, beautiful balayage (ombre's softer, more subtle cousin) and the ever popular ombre.
CLIENTS ARE PROVIDED WITH A COMPLIMENTARY, MINI AFTERCARE PACK OF PRODUCTS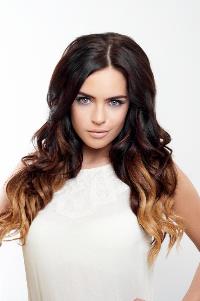 Celebrity Choice I Tip Hair
18 Inch
Half head £290 100 grams Ombre inc Fitting & Cutting
3/4 head £345 150 grams Ombre inc Fitting & Cutting
Full head £435 200 grams Ombre inc Fitting & Cutting
20 Inch
Half head £325 100 grams Ombre inc Fitting & Cutting

3/4 head £385 150 grams Ombre inc Fitting & Cutting

Full head £450 200 grams Ombre inc Fitting & Cutting
18 Inch
Half head £280 70 grams Balayage inc Fitting & Cutting

3/4 head £400 140 grams Balayage inc Fitting & Cutting
Full head £465 210 grams Balayage inc Fitting & Cutting
20 Inch
Half head £290 70 grams Balayage inc Fitting & Cutting

3/4 head £390 140 grams Balayage inc Fitting & Cutting

Full head £492 210 grams Balayage inc Fitting & Cutting

Celebrity Choice Flat Tip Keratin Bonds
18 Inch
Half head £345 100 grams Ombre inc Fitting & Cutting
3/4 head £400 150 grams Ombre inc Fitting & Cutting
Full head £455 200 grams Ombre inc Fitting & Cutting
20 Inch
Half head £380 100 grams Ombre inc Fitting & Cutting

3/4 head £440 150 grams Ombre inc Fitting & Cutting

Full head £505 200 grams Ombre inc Fitting & Cutting
18 Inch
Half head £280 70 grams Balayage inc Fitting & Cutting

3/4 head £375 140 grams Balayage inc Fitting & Cutting
Full head £505 210 grams Balayage inc Fitting & Cutting
20 Inch
Half head £290 70 grams Balayage inc Fitting & Cutting

3/4 head £39 0140 grams Balayage inc Fitting & Cutting

Full head £490 210 grams Balayage inc Fitting & Cutting