As the name suggest these extensions are quite literally taped into your natural hair, using a brand new method of applying extensions.
The small sections of weft come with a durable tape attatched and then small section, roughly 1.5 inches wide, of natural hair is sandwiched between to of the weft to create a seamless natural looking extension that is barely visable.
These extensions are reusable and the tape lasts 4-10 depending on the frequency of washing and how quickly your natural hair grows.
They can be removed, the natural hair washed, fresh tape applied to the mini wefts and you are once again ready for re-application.
I use the invisweft tape extensions deigned by legendary hairdresser to the stars Jen Atkins, hailed as the most influential women in hair - her clients include Khloe Kardashian, Kylie Jenner & Jessica Alba.
This hair can lasts up to 9 months with good aftercare and maintenance.
The invisi-tape is virtually undetectable in the hair and is created onto extremely thin silk base for ultimate discreetness.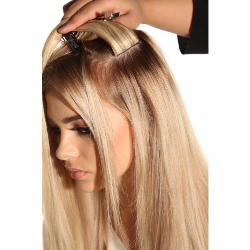 PRICELIST
20 Inch - 40 grams - Ideal in adding small amount of thickness to the front on underneath of the natural hair £209 inc hair, fitting & cutting
20 Inch - 80 grams - The perfect amount for a half head application, great for adding volume and length to fine hair/medium hair £345 inc hair, fitting & cutting
20 Inch - 120 grams - The 3\4 head will deliver greater thickness than the half head without the bulk of a full head application, keeping the look very natural,suitable for medium/thick hair £473 inc hair, fitting & cutting
20 inch 160 grams - The full head, the ultimate in volume and thickness, for people with very thick natural hair or those who crave the glamour of full volume hair £609 inc hair, fitting & cutting.
CLIENTS ARE PROVIDED WITH A COMPLIMENTARY, MINI AFTERCARE PACK OF PRODUCTS

MAINTENANCE APPOINTMENTS - INC REMOVAL, WASH AND BLOWDRY, RE-TAPPING AND REFITTING £160
REMOVAL INC WASH AND BLOWDRY £60