Micro Ring Price List
Consultations are free, if you decide to book an appointment a deposit of £30 will be needed, this is to secure your appointment and is taken off your final fitting bill, all prices include fitting, hair and blending cut. The hair is ordered in to fit each individuals colour and length so your fitting appointment is generally 2/3 days after your consultation.
The human hair i use is European Remy grade AAA for the micro ring fitting, this hair lasts roughly 3-4 months.
If you fail to attend your appointment or do not cancel/re-arrange your appointment with 48 hours notice you deposit will become non refundable.
Micro Ring hair extensions are a method of extension which involves a small silicone lined metal cylinder which is clamped onto your natural hair. Strands of hair are threaded through the ring using a loop attached to the hair extension (which is then discarded once hair is threaded) and then pliers are used to clamp the ring tightly to the natural hair. There are no glues, weaves or heat involved. The metal ring is coloured as close as possible to the hair itself.
Mini Tips v Micro Rings
The main difference between the two is the shape and size of both the thickness of the tip of the individual strand of hair that goes into the bond and the size of the bond itself, micro rings are circular, while mini tips are tubes.
Micro rings tend to feel quite bulky in the natural hair and can be visable if positioned incorrectly or there isn't enough natural hair for coverage, micro rings are great for those with thicker/coarser hair.
Mini tips are longer than micro rings but alot thinner, so are less noticeable in the natural hair as they lay flatter against the scalp so don't carry the bulk that micro rings do, and are ideal for those with thinner hair, especially around the hairline, blondes also benefit from having mini tips as the lighter the hair the more visable extensions become.
The quality of hair is also a big difference and a key point when looking for longevity in your extensions, please look at my INDIAN MINI TIPS and my RUSSIAN MINI TIPS for improved hair qaulity and longevity.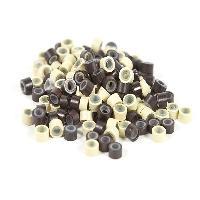 24"
FULL HEAD £289 - HALF HEAD £254
22"
FULL HEAD £264 - HALF HEAD £229
20"
FULL HEAD £239 - HALF HEAD £189
FULL HEAD OMBRE/BALAYAGE £305 - HALF HEAD £289
18"
FULL HEAD £214 - HALF HEAD £164
FULL HEAD OMBRE/BALAYAGE £280 - HALF HEAD £264
16"
FULL HEAD £175 - HALF HEAD £125
14"
FULL HEAD £150 - HALF HEAD £100
ALL PRICES INCLUDE HAIR, FITTING, CUTTING & BLENDING/STYLING, AFTER SHEET.
*MICRO RING RE-TIGHTENING APPOINTMENTS £50
*HAIR TOP-UPS OF 25 PIECES (INDIVIDUAL BONDS ONLY) £42
*MICRO RING REMOVAL £30